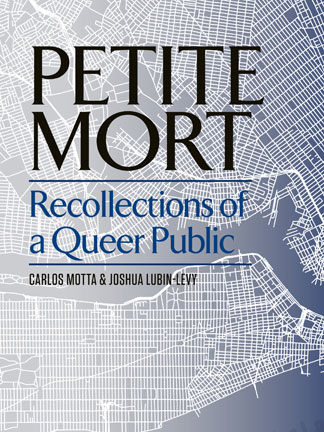 Download PDF here
Buy book at Printed Matter, Inc.

Petite Mort: Recollections of a Queer Public is a book by Carlos Motta and Joshua Lubin-Levy, which assembles drawings from memory of spaces in New York City where a public sexual encounter occurred, and presents contributions from an intergenerational group of over 60 gay men. Conceived as an atlas of queer affection, "Petite Mort" proposes a subjective blueprint of the city, one that values not simply the space "as is," but how it has been performed and engaged, highlighting the fundamental connection between public space and queer life.
The collected drawings, depicting sites extending from a residential rooftop to The Rambles in Central Park, remind us that public sex is not exclusively about a personal pursuit of pleasure—they also contain the seeds of historical social and political action that have brought together communities of gay men. "Petite Mort" asks questions challenging us to expand our vision for queer politics: What if our politics were rebuilt around a broader notion of intimacy rather than individuality? Can we foster, rather than police, the trust and affection inherent to desire and pleasure? Should equality be about difference, rather than assimilation?
Texts by: Aiken Forrett, Ann Pellegrini & Janet R. Jakobsen, Eileen Myles, Gordon Brent Ingram, Jill H. Casid, Joel Czarlinsky, Johan Andersson, John Paul Ricco, José Esteban Muñoz, Kate Bornstein, Katherine Franke and Tim Dean.
Drawings by: Anonymous, Daniel Arango, Pablo León de la Barra, Jarrod Beck, Jean de Boysson, W. Chase, G J Climer, Ashton Anders Correa, Jonathan Crespo, TM & Liam Davy, David Deitcher, John Paul Detty, Rafael Perez Evans, Allen Frame, Jack Fritscher, Vincent W. Gagliostro, Terence Gower, Daniel Greenfield, Daniel Handal, Christopher Hollowell, Aram Jibilian, John Jurayj, Dave King, Doron Langberg, Michael Lehman, Trygve Luktvasslimo, Sebastiano Mauri, Matthias Vriens Mcgrath, Michael, Billy Miller, John Monteith, Matthew-Robin Nye, Eugenio Percossi, Matthu Placek, Eric Rhein, Manu Rodriguez, Samuel Roeck, Sergio Roger, Cyrus Saint, Patterson Scarlett, Christopher Schulz, Jacques Servin, Ethan Shoshan, Jean-Michel Sivry, Daniel Smith, John J. Spencer III, Max Steele, Mattilda Bernstein Sycamore, George Towne, Ultra-red, Jonathan VanDyke, Antoine Vigne, Jason Wee, Seth Joseph Weine, Eric Wolf, and Jake Yuzna. 
• 
Published by Forever & Today, Inc., New York
160 pages, 2011
ISBN 978-0-615-52391-0