A collaborative project with Joshua Lubin-Levy and many drawing and text contributors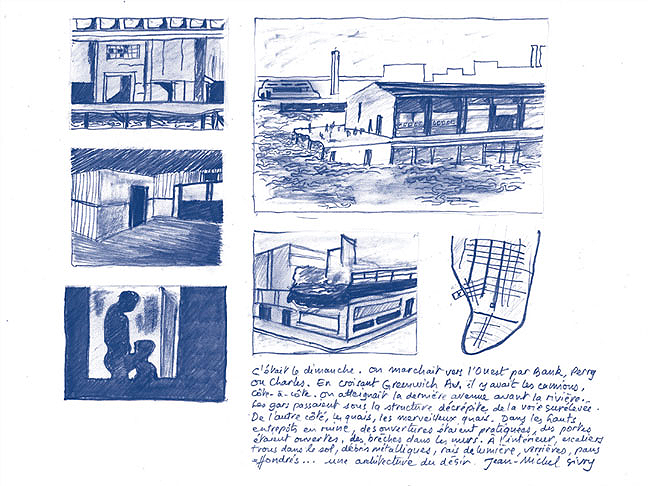 Jean Michel Sivry, The Piers, 2011 
Download the book in PDF here
Buy book at Printed Matter, Inc.
Petite Mort: Recollections of a Queer Public is a book that assembles drawings from memory of spaces in New York City where a public sexual encounter occurred, and presents contributions from an intergenerational group of over 60 gay men.
Conceived as an atlas of queer affection, Petite Mort proposes a subjective blueprint of the city, one that values not simply the space "as is," but how it has been performed and engaged, highlighting the fundamental connection between public space and queer life. The collected drawings, depicting sites extending from a residential rooftop to The Rambles in Central Park, remind us that public sex is not exclusively about a personal pursuit of pleasure—they also contain the seeds of historical social and political action that have brought together communities of gay men.
Petite Mort asks questions challenging us to expand our vision for queer politics: What if our politics were rebuilt around a broader notion of intimacy rather than individuality?Can we foster, rather than police, the trust and affection inherent to desire and pleasure? Should equality be about difference, rather than assimilation?
The performance series held at Forever & Today, Inc. included: Sketchy Walk by Juan Betancurth and Todd Shalom, a self-guided late-night cruising walk in the Lower East Side/Chinatown; Last Call by J. Morrison, interactive performances lasting for the duration of one song; and TENS by Cyrus Saint Amand Poliakoff, participatory performances exploring how language and electricity operate in the body.
Printed in an edition of 500, proceeds from the Petite Mort book benefit Queers for Economic Justice (QEJ).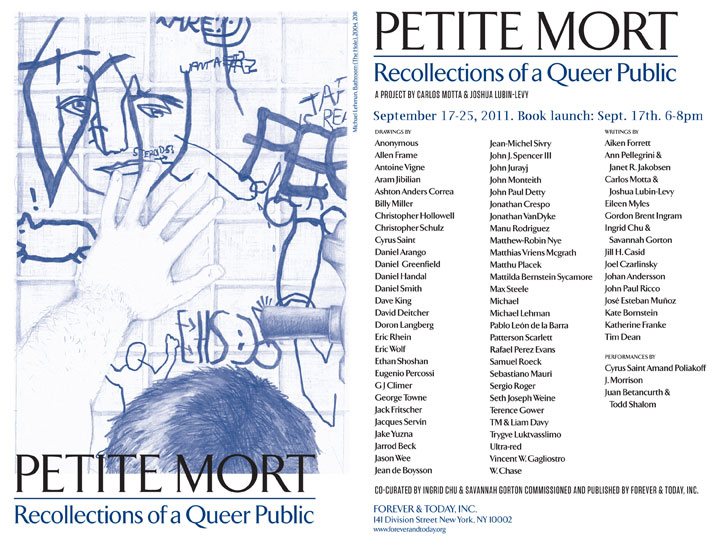 •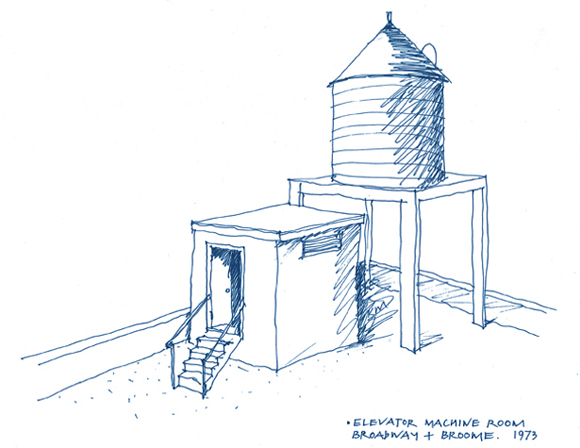 Patterson Scarlett, Broome Street at Broadway (Rooftop Elevator Room), 2011
 
DRAWINGS BY
Anonymous, Allen Frame, Antoine Vigne, Aram Jibilian, Ashton Anders Correa, Billy Miller, Christopher Hollowell, Christopher Schulz, Cyrus Saint, Daniel Arango, Daniel Greenfield, Daniel Handal, Daniel Smith, Dave King, David Deitcher, Doron Langberg, Eric Rhein, Eric Wolf, Ethan Shoshan, Eugenio Percossi, G J Climer, George Towne, Jack Fritscher, Jacques Servin, Jake Yuzna, Jarrod Beck, Jason Wee, Jean de Boysson, Jean-Michel Sivry, John J. Spencer III, John Jurayj, John Monteith, John Paul Detty, Jonathan Crespo, Jonathan VanDyke, Manu Rodriguez, Matthew-Robin Nye, Matthias Vriens Mcgrath, Matthu Placek, Mattilda Bernstein Sycamore, Max Steele, Michael, Michael Lehman, Pablo León de la Barra, Patterson Scarlett, Rafael Perez Evans, Samuel Roeck, Sebastiano Mauri, Sergio roger, Seth Joseph Weine, Terence Gower, TM & Liam Davy, Trygve Luktvasslimo, Ultra-red, Vincent W. Gagliostro, and W. Chase
•
WRITINGS BY
Aiken Forrett, Ann Pellegrini & Janet R. Jakobsen, Carlos Motta & Joshua Lubin-Levy, Eileen Myles, Gordon Brent Ingram, Jill H. Casid, Joel Czarlinsky, Johan Andersson, John Paul Ricco, José Esteban Muñoz, Kate Bornstein, Katherine Franke and Tim Dean.
•
PERFORMANCES BY
J. Morrison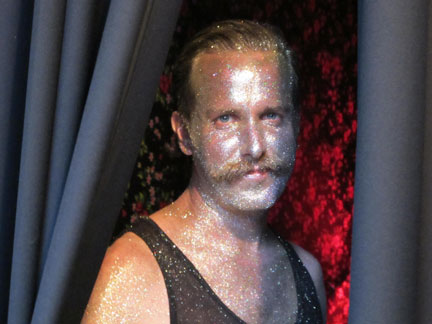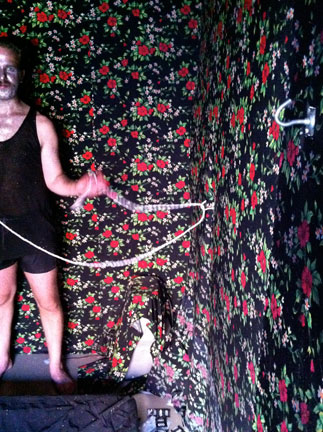 J. before and after performing
J. Morrison: Last Call, Sat. Sept. 17, 6–9pm & Sun. Sept. 18, 12–6pm at F&T, Inc.
J. lead interactive performances that lasted for the duration of a song.
 
Cyrus Saint Amand Poliakoff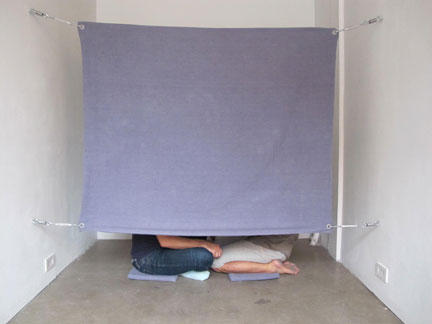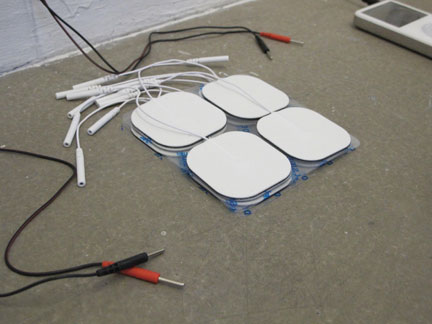 Cyrus and participant during performance and the set of TENS
Cyrus Saint Amand Poliakoff: TENS, Sat. Sept. 24, 6–9pm & Sun. Sept. 25, 3–5pm at F&T, Inc.
Cyrus lead participatory performances exploring how language and electricity operate in the body.
Juan Betancurth and Todd Shalom
Juan and Todd master-minded a self-guided late-night cruising walk in the Lower East Side/Chinatown 
Sketchy Walk, Fri. Sept. 23, 10–11pm, outdoor location. 
•
READINGS 
Ryan Kelly and Brennan Gerard
LAX Art book launch on September 29, 2011, Los Angeles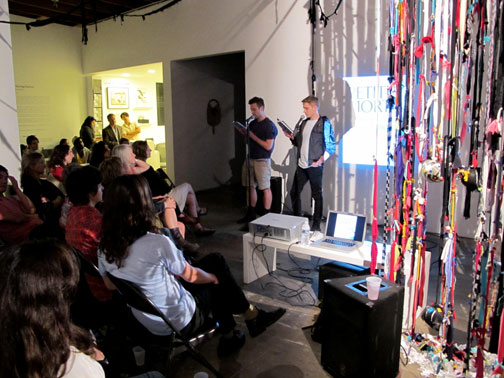 Joel Czarlisnky
Printed Matter book launch and reading on November 4, 2011 in New York City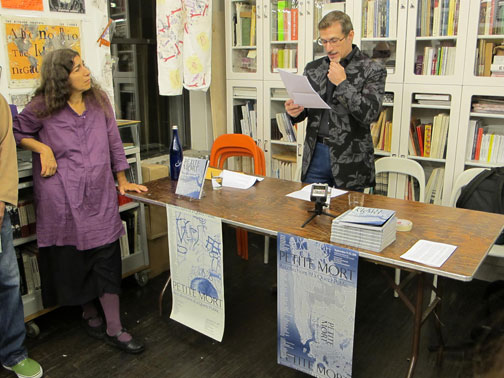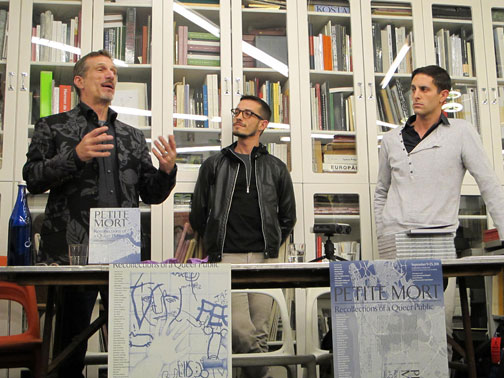 •
Some Press
"Public Sex in New York City" by Justin Ocean for OUT TRAVELER
"Sex in Public Places" BUTT MAGAZINE
•
Funding for Petite Mort was made possible in part by USA Projects, an online initiative of United States Artists, with donations by over 70 supporters.