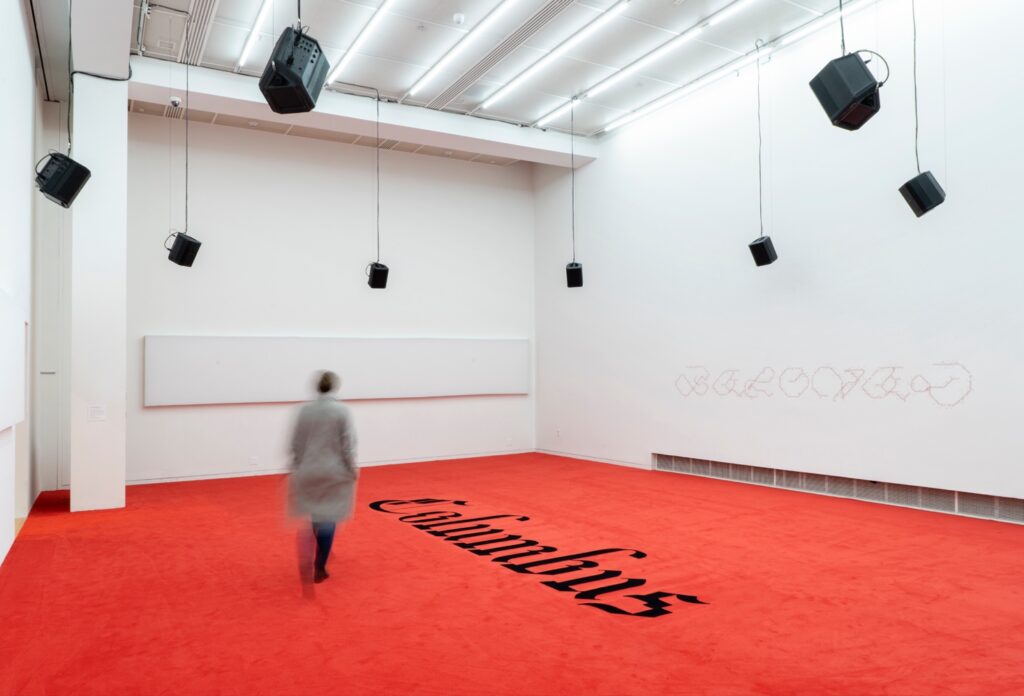 Eight channel sound installation with carpet and text mural on wall
Installation dimensions variable, 26 min.
Commissioned by the Wexner Center for the Arts, Columbus, Ohio, 2022
Download The Columbus Assembly publication here
Discussions for The Columbus Assembly began in the "before times," in February 2020, just prior to the first COVID-19 lockdown. They continued during the widespread protests decrying police brutality that summer, and the attendant debates around symbolic commemoration in public space. Quarantined in our respective homes in New York and Columbus, we watched as monuments to imperial, confederate, and colonial figures were toppled by protesters, defaced, or sometimes officially removed. Institutional names, too, were put into question.
The project took shape under the influence of these historical movements and was directed toward the very location of the Wexner Arts Center: Columbus, Ohio. There are at least twenty-four cities in the world named in honor of Christopher Columbus; Ohio's capital city is the largest. The nation of Colombia, too, bears the Italian explorer's name, as does a day of celebration, Columbus Day. Yet all of these commemorations are disconnected from the legacy of their namesake, which has long been contested. We began to think about renaming as a way to articulate suppressed histories and envision more equitable futures. We asked: What is in a name? What is at stake in the demand that a name be changed? How might traumatic histories be rectified? What sort of conversations and civic processes should happen along the way, and in what contexts: government policy, cultural institutions, intersectional public engagements? How might society change?
We asked scholars, artists, writers, and activists to participate in three roundtable discussions, divided according to theme. "Commemoration, Public Space, and Social Justice" addressed legal, historical, and public policy perspectives. "The Future of History: BIPOC, Queer, and Trans Perspectives"debated commemoration from the perspective of those colonialism has oppressed. And "Renaming Columbus and Representing Community Values" gathered perspectives from Ohio to weigh the value of changing the city's name, and to what.
These discussions were transcribed and transformed into a script for The Columbus Assembly, a multichannel sound installation that premiered at the Wex within the larger exhibition Carlos Motta: Your Monsters, Our Idols.
Download The Columbus Assembly publication here
—Carlos Motta and Lucy I. Zimmerman (2022)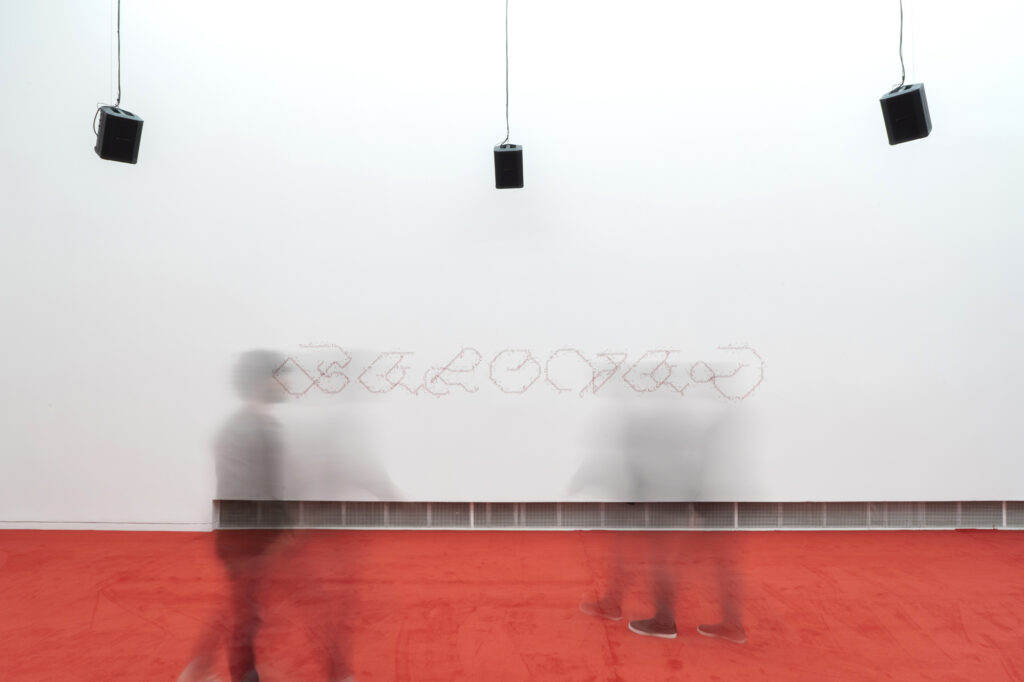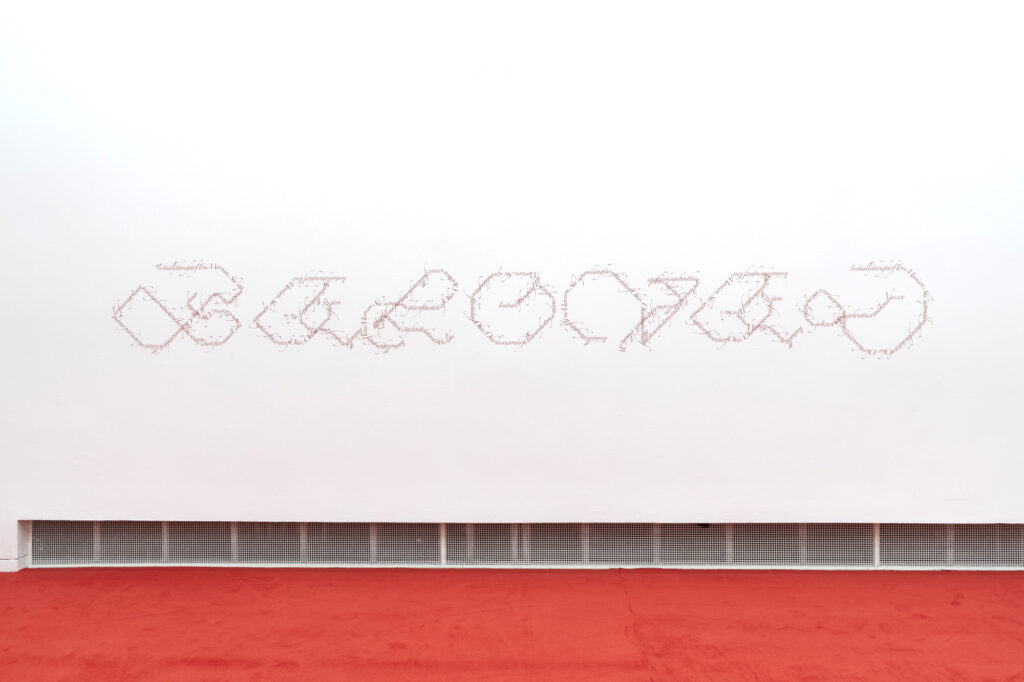 Credits
The script for the sound work was adapted by Carlos Motta from conversations with Amna Akbar, Laura Barrera, Kate Beane, Marcelo Hernandez Castillo, Karma Chávez, Gina Dent, Ambrose DuPree, Indigo Gonzales Miller, Saeed Jones, John N. Low, Twinkle Panda, Joseph M. Pierce, Martin Joseph Ponce, Ana María Reyes, Chase Strangio, Susan Stryker, Mary E. Thomas, and Mabel O. Wilson
Performed by Michael Charles, Noah Demland, Felicia de Rosa, Indigo Gonzales Miller, Marcus Morris, Sara Pardo Fishburn, Vicki Saunders, and Joseph Ze Soza
Sound Editor
Lidia Tamplenizza
Sound Production
Joey Gurwin, Oranjudio
Installation Design
Carlos Motta and Composite Co.
Text mural "Beloved" inspired by the words of Saeed Jones
Supported by a Wexner Center Artist Residency Award
Produced for the exhibition Carlos Motta: Your Monsters, Our Idols (September 16 – December 30, 2022), curated by Associate Curator of Exhibitions Lucy I. Zimmerman with Exhibition Research Assistant Indigo Gonzales Miller and Graduate Curatorial Intern Arielle Irizarry.