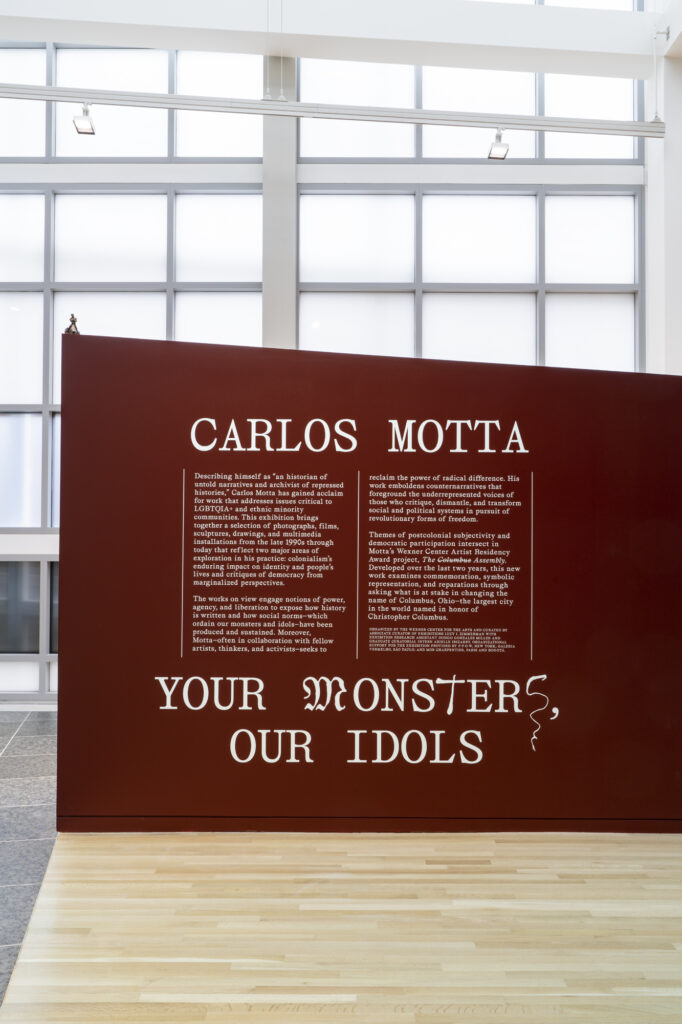 Download the exhibition catalogue here
Acclaimed for his work that addresses critical LGBTQIA+ issues both past and present, Motta describes himself as "an historian of untold narratives and archivist of repressed histories." Your Monsters, Our Idols brings together a selection of photographs, films, sculptures, drawings, and multimedia installations from the late 1990s through today that reflect two major areas of exploration in his practice: postcolonial subjectivity and democratic participation.
Many works in this thematic solo exhibition not only reveal the struggles of queer people under the constraints of oppressive social and political regimes, they also use participation as a device, employing self-representation and self-determination as strategies to produce counternarratives. The range of this liberated expression is expanded through collaborations with other artists, including Julio Salgado, Simon(e) Jaikiriuma Paetau, Tiamat Legion Medusa, and SPIT! (Sodomites, Perverts, Inverts Together!), a collective including Motta, John Arthur Peetz, and Carlos Maria Romero. It's enhanced as well by working in dialogue with thinkers and activists.
Your Monsters, Our Idols featured the premiere of Motta's first multichannel sound installation, The Columbus Assembly, which was supported by a Wexner Center Artist Residency Award. The project is based on conversations with artists, activists, and scholars who queried what was at stake in changing the name of Columbus, Ohio—the largest city in the world named after Christopher Columbus, the European explorer who enabled the colonization of the Americas. Exploring the intersecting politics of patriarchal and colonial commemoration, The Columbus Assembly asks how examining such symbolic acts of recognition might contribute to larger efforts to decolonize institutions, attain radical equity, and achieve restorative justice.
Two free volumes were published in conjunction with Your Monsters, Our Idols: A booklet accompanying the residency work that features the edited roundtable conversations along with a poem by Indigo Gonzales Miller, and an exhibition gallery guide that will feature new essays by scholar and filmmaker Susan Stryker and exhibition curator Lucy I. Zimmerman.
Graphic Identity by Composite.co
Installation Design by Daniel Greenfield and Carlos Motta
Download the exhibition catalogue here