A video/film program co-organized with Elise Youn at the New Museum, New York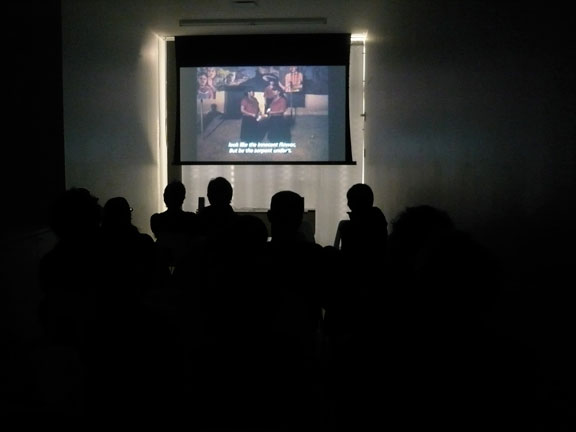 Unmasked: A Marathon of Artists' Videos and Films Contesting Systems of Rule was a two-day screening of film and video works that employ conceptual documentary filmmaking strategies to question and critique policies of oppression, discrimination, and violence. Programmed by Carlos Motta and Elise Youn, the screening includes work by Dario Azzellini and Oliver Ressler, Petra Bauer, François Bucher, Jim Finn, Ashley Hunt, Tellervo Kalleinen and Oliver Kochta-Kalleinen, Lin + Lam, John Menick, Jenny Perlin, and Dmitry Vilensky. The marathon also includes"Charged in the Name of Terror," a short program by Paul Chan featuring works by Mary Billyou and Annelisse Fifi, Paul Chan, Jim Fetterley and Angie Waller, and Susan Youssef.
The film and video works of Unmasked bring attention to the role of the artist as a political agent–contesting hegemonic state structures; interrogating strategies of class, gender, and racial segregation; and exposing discrimination against minorities in globalized urban centers. The works also engage documentary filmmaking as a form, challenging the distinction between reality and fiction to unearth hidden and repressed histories, examine the use and manipulation of ideologies, and propose alternative tactics for collective action.
Both Saturday and Sunday programs were followed by discussions with screening organizers Elise Youn and Carlos Motta.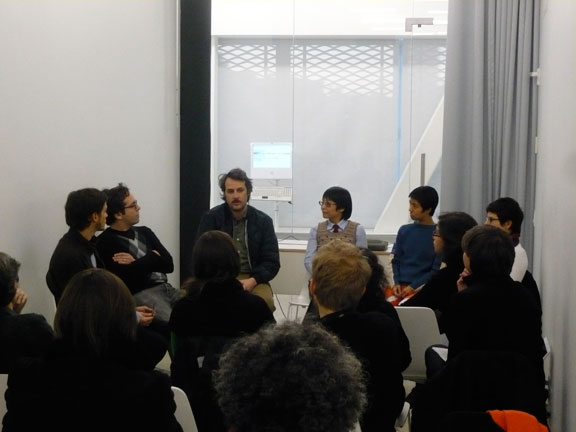 From left: Carlos Motta, John Menick, Jim Finn, Lan Thao Lam, Lana Lin, Jenny Perlin and Elise Youn.