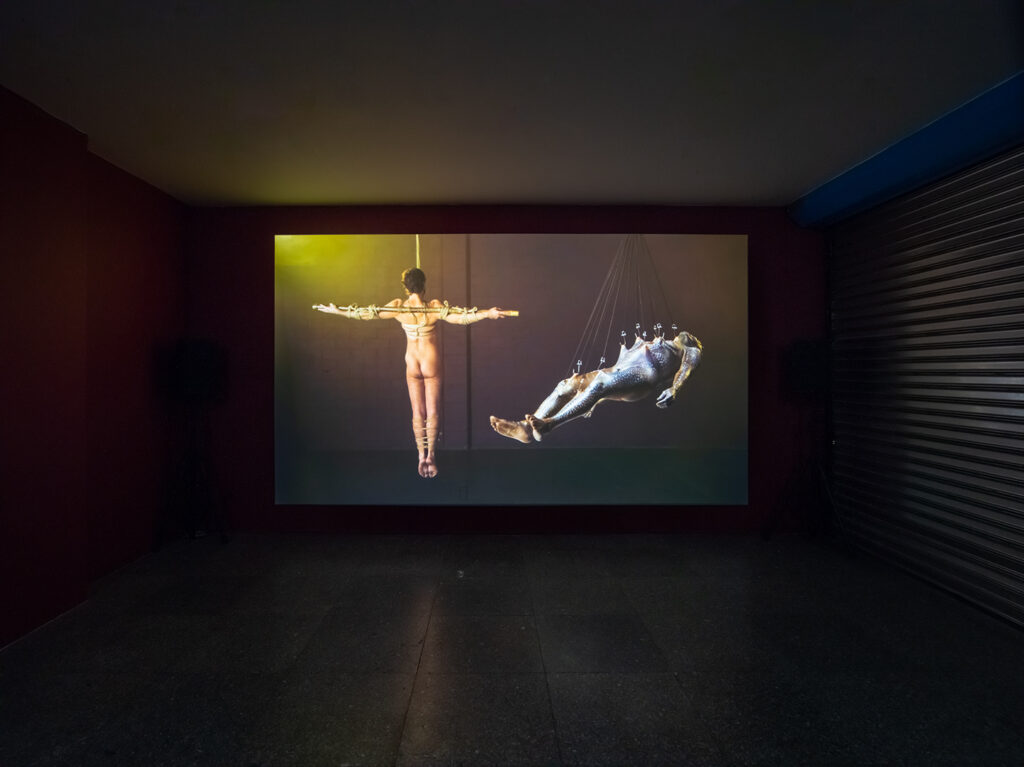 installation view at OCDCHINATOWN, New York. Photos by Jason Mandella
When I Leave This World is a two-channel video installation that centers the life and work of performance and body-modification artist Tiamat Legion Medusa, with artist Carlos Motta as collaborator and interlocutor. Adopting the names of mythological monsters and the pronouns it/its, Tiamat Legion Medusa simultaneously transitioned from male to female and from human to reptile; its ultimate goal is to transform into a dragon. The complementary pair of videos present Medusa's inner and outer worlds, combining to form a double portrait.
Lending its title to the work, When I Leave This World (2022, 10 minutes) records one of Medusa's suspension performances, set to an original soundtrack by DJ and sound artist ELO. Two assistants in black rubber gloves carefully pierce its chest, stomach, and legs with hooks, its shimmering skin occasionally twitching in expectation. Ropes are threaded through the hooks and pulled taut, lifting the horizontal body. Slowly rotating in space, Medusa is joined by Motta in Shibari rope bondage, hanging upright with arms outstretched as if on a crucifix. Two traditions of suspension are dramatically juxtaposed in a tableau of transgressive geometry.
In Tiamat Legion Medusa (2022, 26 minutes), the artist talks about its childhood experiences of abandonment and assault, which led to the desire to change species. "I don't want to die looking like a human being when I leave this world," Medusa says, describing its physical metamorphosis as a "protest at humanity." As it recounts its life story and details its transitions, the video is intercut with images of its drawings and old family photographs, foregrounding Medusa's immaterial voice. Nevertheless, its concept of self remains resolutely embodied.
This artistic collaboration continues Motta's investigations into queer counter-histories, uncovering and visualizing marginalized narratives that resist heteronormative hegemony. Yet it also moves beyond the archival past to embrace a potential posthuman future. If political discourse dehumanizes those the State would imprison, conquer, or kill, then the recognition and valuation of difference has long been understood as a process of humanization. Medusa's monstrous metamorphosis rejects these terms, pushing alterity beyond the assumption of common humanity.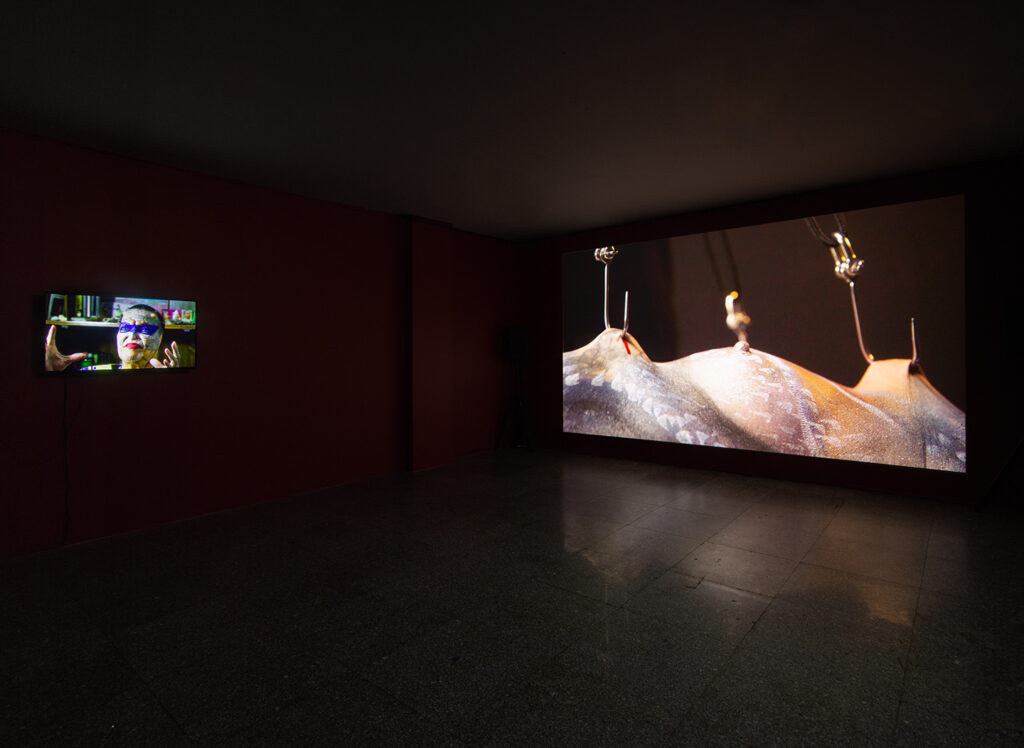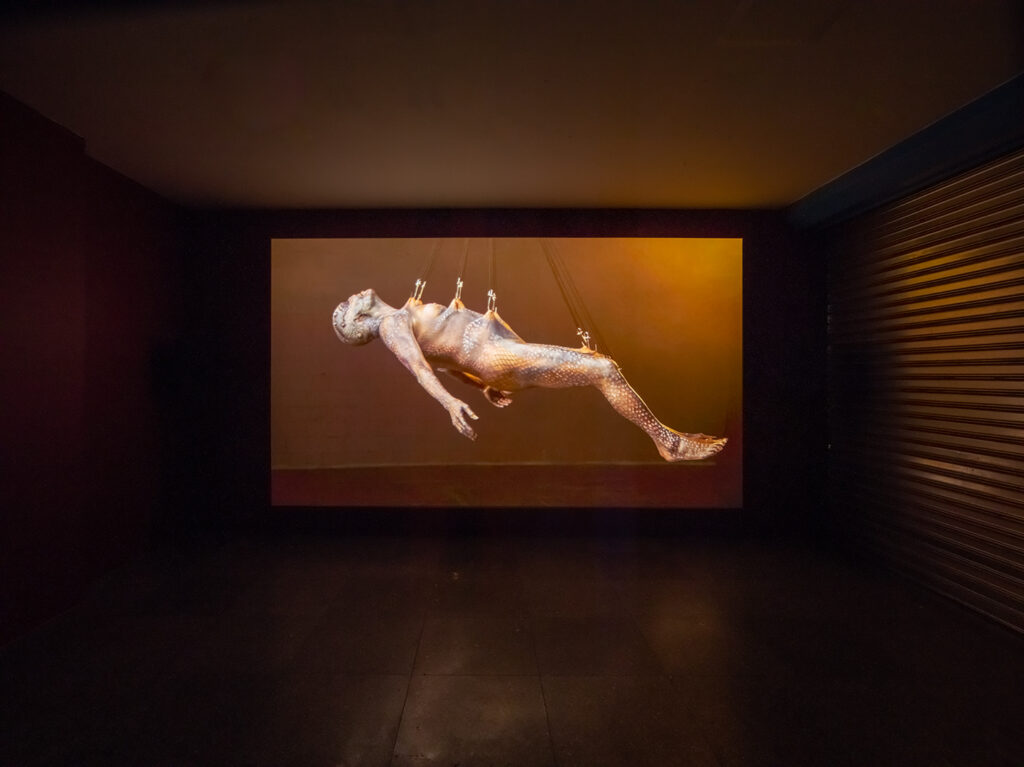 Credits
Video 1: When I Leave This World
A performance video by Carlos Motta in collaboration with Tiamat Legion Medusa
Director of Photography
Moira Morel
Original Soundtrack
ELO
Producer
Karla Legaspy
Suspension by hooks
Steve Joyner – CoRE — Constructs of Ritual Evolution
Dustin Schultz
Shibari
Captain Daddy Sir
Oji Pan
Makeup Artist
Michael Mejia
Second Camera
Arlene Muller
Camera Assistants
Lauren Arthur
Kelsey Juddo
Jaclyn Vresics
Gaffer
Antoine Combelles
Key Grip
Darren H. Rae
Location Sound
Mario Torres
Location
Pollution Studios, Los Angeles
Video 2: Tiamat Legion Medusa
A video by Carlos Motta
Director of Photography
Marie Ketring
Drawings and Photographs
Tiamat Legion Medusa
Design and Animation
Lauryn Siegel
Camera Assistant
Samantha Duncan
Location Sound
Corey G. McMinn
Sound Mix
Ian Turner