Nefandus (HD 16:9. Video, color, sound, 13:04′)
In Nefandus two men travel by canoe down the Don Diego river in the Sierra Nevada de Santa Marta in the Colombian Caribbean, a landscape of "wild" beauty. The men, an indigenous man and a Spanish speaking man, tell stories about pecados nefandos [unspeakable sins, abominable crimes]; acts of sodomy that took place in the Americas during the conquest. It has been documented that Spanish conquistadores used sex as a weapon of domination, but what is known about homoerotic pre-hispanic traditions? How did Christian morality, as taught by the Catholic missions and propagated through war during the Conquest, transform the natives' relationship to sex? Nefandus attentively looks at the landscape, its movement and its sounds for clues of stories that remain untold and have been largely ignored and stigmatized in historical accounts.
Nefandus was the winner of Catalonia Rambles Award 2013, an acquisition award by Screen Project/Loop in Barcelona, Spain. The video will be on permanent loan to MACBA – Museum of Contemporary Art of Barcelona, Spain. Jury: Valentijn Byvanck, Bartomeu Marí, Mark Nash and Dirk Snauwaert.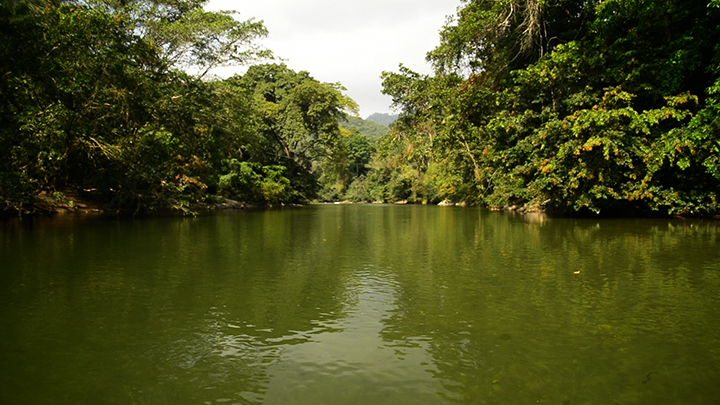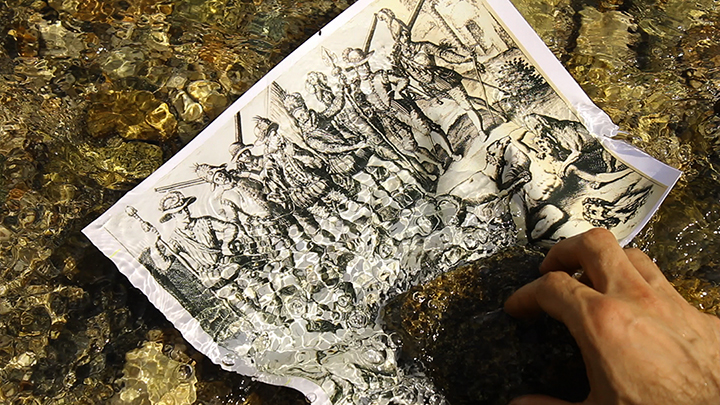 Installation view at Galeria Filomena Soares, Lisbon (June-September 2013)
FESTIVALS & SCREENINGS
Carlos Motta: Formas de Libertad, Matucana 100, Santiago de Chile, 2018
Tradiciones subvertidas: hacia una etnografía queer, La Casa Encendida, Madrid, 2018
Part of the Continuum, Sion-St. Peter's Church, New York, 2018
Queer Tropics, Transformer, Washington D.C., 2018
Campo a través. Arte colombiano en la colección del Banco de la República, Sala Alcalá 31, Madrid, 2018
Carlos Motta: Formas de Libertad, Museo de Arte Moderno de Medellín, 2017
Exquisite Corpse: Moving Image in Latin American and Asian Art, Mana Wyndham, Miami, 2017
Queer Tropics, Pelican Bomb Gallery X, New Orleans, 2017
2 Chiangjiang International Biennale of Photography and Video Art, 2017
The Morality Reflex, Contemporary Art Centre (CAC), Vilnius, 2016
Carlos Motta: For Democracy There Must Be Love, Röda Sten Konsthall, Gothenburg, 2015
FOKUS 2015 Video Art Festival, Nikolaj Kunsthal, Copenhagen, 2015
Wave & Particle, Ronald Feldman Fine Arts, New York, 2015
The 10th Xposed International Queer Film Festival, Berlin, 2015
Frente à Euforia, Oficina Cultural Oswald de Andrade, São Paulo, 2015
12th Queer City Cinema International Film Festival, Regina, Canada, 2015
Cannibale, ou le Musée Anthropophage, Le Musée de la Chase et de la Nature, Paris, 2015
Discovery Award Exhibition, LOOP Barcelona 2015
Japanese Nightingale Doesn't Sing At Night, XYZ collective, Tokyo, 2015
Les Rencontres Internationales, Berlin 2015, Haus der Kulturen der Welt, Berlin, 2015
Encuentro Internacional de Arte de Medellín, MDE15, 2015
Universidade do Rio de Janeiro, 2016
Cannibale, ou le Musée Anthropophage, Le Musée de la Chase et de la Nature, Paris, 2015
12th Queer City Cinema International Film Festival, Regina, Canada, 2015
Ornament, Simon Preston Gallery, New York, 2015
Encrucijadas//Encruzilhadas: Corpos, Corpus, Corpses, Dialogues for Latin American Cinemas,
Michelson Theater, NYU Department of Cinema Studies, New York, 2015
6 Proyecciones, Casa América, Madrid, 2015
Rencontres Internationales a Paris, Gaîté Lyrique, Paris, 2014
Future Generation Art Prize, PinchukArtCentre, Kiev, 2014
Evidencias de los hechos — Adquisiciones recientes,
Museo de Arte del Banco de la República, Bogotá, 2014
Salón de Belleza in Utopian Pulse — Flares in the Darkroom, Secession, Vienna, 2014
16 Muestra Internacional Documental de Bogotá, Colombia, 2014
Inventer le possible. Vidéothèque éphémère 2, Jeu de Paume, Paris, 2014
Carlos Motta: Nefandus Trilogy, Jeu de Paume, Paris, 2014
The Unwritten, Marres House for Contemporary Culture, Maastricht, The Netherlands, 2014
5 Years, 6 Works, 7 Artists, LOOP Awards 2010-2014,
Fuso: Anual de Video Arte Internacional de Lisboa, 2014
Carlos Motta, Galería Filomena Soares, ARCO: Solo Projects, Madrid, 2014
PORT. Galerij Verbeeck Van Dyck. Antwerp Queer Arts Festival, 2014
European Short Films Competition, New Horizons International Film Festival, Wroclaw, Poland, 2014
Bellos Jueves, Museo Nacional de Bellas Artes, Buenos Aires, Argentina, 2014
Colonia apócrifa, Museo de Arte Contemporáneo de Castilla y León (MUSAC), León, Spain, 2014
Festival Internacional de Cine Asterisco, Buenos Aires, 2014
IBAFF-Festival Internacional de Cine de Murcia, 2014
Festival de Cine Ciclo Rosa, Cinemateca Distrital, Bogotá, 2014
Festival de Cine Ciclo Rosa, Centro ColomboAmericano, Medellín, 2014
La noche del apagón, Museu d'Art Contemporani de Barcelona, 2014
Tropical Uncanny, Guggenheim Museum, New York, 2014
Carlos Motta: Nefandus Trilogy, School of the Art Institute of Chicago, October 4, 2014
QP5- El cuerpo queer, la construcción de la memoria , ARTE ACTUAL – FLACSO, Quito, 2014
Carlos Motta: Trilogía Nefanda, El Tunel Alternativo, Cuenca, Ecuador
The First International Biennial of Contemporary Art of Cartagena de Indias, 2014
International Film Festival Rotterdam, 2014
LOOP, Barcelona, 2013
Toronto International Film Festival, 2013
Where Dreams Cross, Cinemaqueer International Film Festival, Stockholm, 2013
Galeria Filomena Soares, Lisboa, 2013
Galeria La Central, Bogotá, 2013