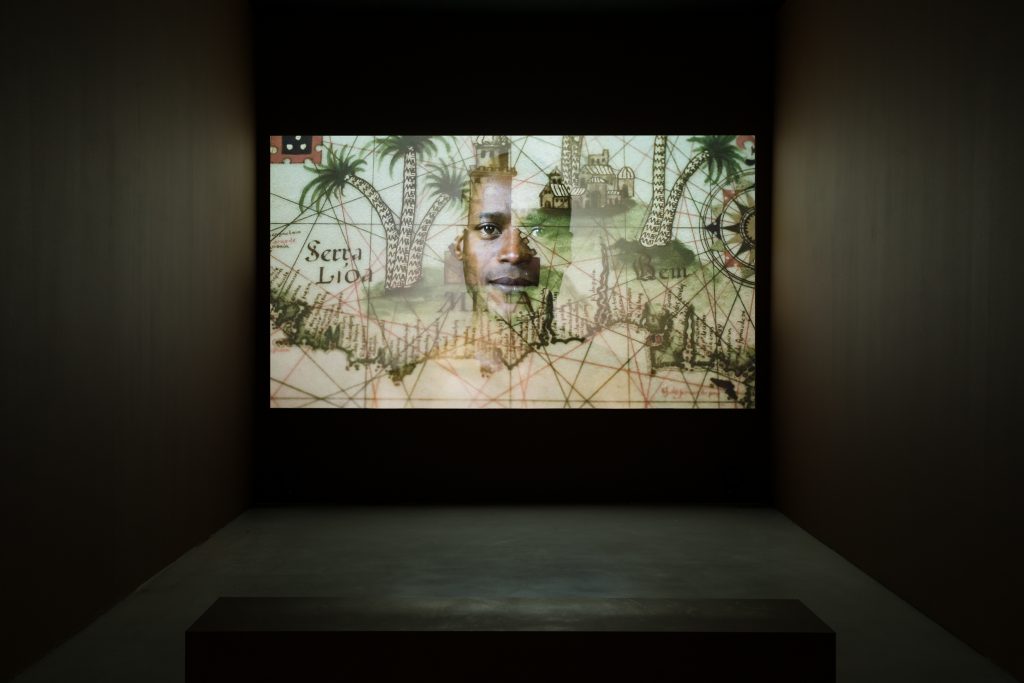 Corpo Fechado—The Devil's Work, (HD 16:9. Video, color, sound, 24:47′)
This multilayered video relates the true story of José Francisco Pereira, an 18th century man who was kidnapped from West Africa and sold into slavery in Brazil. As a means of survival, Pereira, movingly played by Angolan actor Paulo Pascoal, along with others in enslaved communities developed syncretic spiritual practices that mixed African with Christian tradition, in the form of bolsas de mandinga — amulets to protect fellow enslaved persons from injury. In 1731, after Pereira was sold to a slaveholder in Portugal, the Lisbon Inquisition discovered the practice and tried him for sorcery. He was also notably charged with sodomy, since he confessed to copulating with male demons in the course of making the amulets. Pereira was exiled from Lisbon and condemned to end his days enslaved rowing in a galley. Corpo Fechado: The Devil's Work imagines Pereira as the agent of his own narrative, reclaiming the terms of representation from the account of his own destruction.
The video interweaves Pereira's story, drawn from court documents, with two other texts. The first is Letter 31 – The Book of Gomorrah, an 11th century screed by the Italian monk Peter Damian (now a saint), which laid significant foundations for Christianity's millennium of persecuting so-called sodomites. The discourse of the sodomite also played a central role in European colonialism, a theme Motta has extensively explored in earlier video works such as Nefandus Trilogy (2013) and the installation Towards a Homoerotic Historiography (2014), among others. Damian, played by Motta's lover John Arthur Peetz to terrifying effect, stalks the film as a robed and faceless menace. In one scene he plays chess with a visibly nervous Portuguese conquistador (actor Vicente Wallenstein). In front a giant map of the Americas, the game stages an allusive pantomime of the Iberian Empires which would divide the New World between them. The scene also recalls the life-and-death chess game of the Knight and Death in Ingmar Bergman's The Seventh Seal (1957), although in this case the noble wanderer is just as cruel and deadly as the robed figure eight squares away.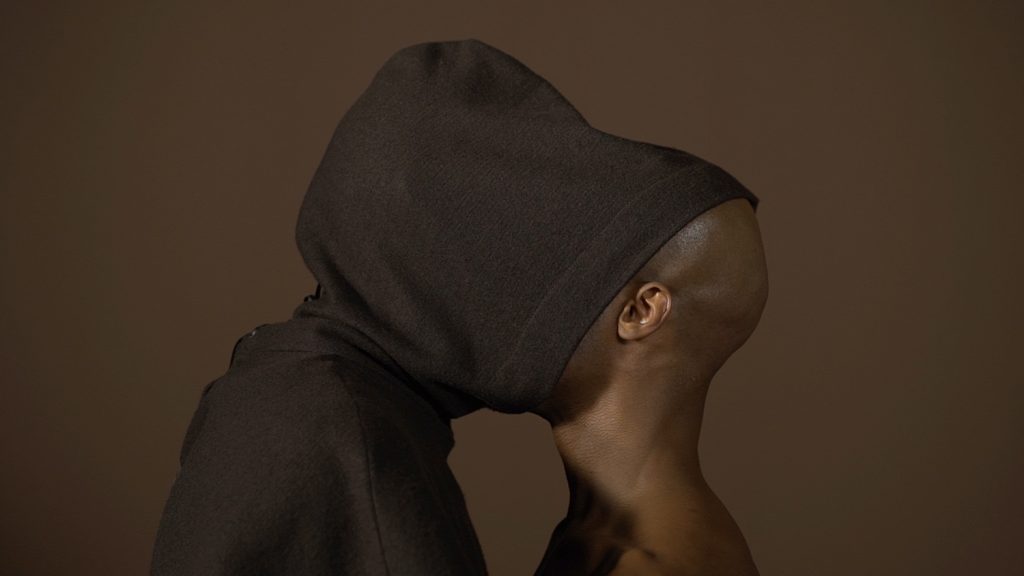 The second intertext is Walter Benjamin's famed essay On the Concept of History (1940), also known as Theses on the Philosophy of History. In Corpo Fechado, Pereira incarnates Benjamin's Angel of History, a seraph caught in a storm blowing from Paradise, propelled inexorably into the future yet facing backward, doomed to see only the wreckage of the past. Against whiggish historicism and naïve confidence in 'progress,' Benjamin advocates a materialist historiography that will "brush history against the grain" to "grasp the constellation our present era forms with a definite earlier one." In the letter and spirit of Benjamin's method, Motta's film brings together little-known figures like Pereira and Damian, retrieved from archives of a distant past, for a story of migration, race, sexuality, law, and belief, whose contemporary urgency reframes conditions of the present.
In a departure from Motta's previous practice, Corpo Fechado embraces a baroque theatricality. For Benjamin, it was precisely baroque theater that could confront the contradictions of history, often through allegorical combinations of disparate elements that cohere in a single detail. Although Motta does not abandon the conceptualist techniques for which he is known, his present work composes elliptical vignettes that assemble his historical material in imaginative arrangements. Certain vignettes are redolent of Spanish Baroque. When Pereira or Damian wield instruments of mortification before a spare brown setting, for example, both the chromatic range and mise-en-scène recall the paintings of Diego Velázquez or Francisco de Zurbarán. We live, again, in a baroque era. Like that earlier one, our age invents ever more globalized injustices even as it lurches back into our most regressive tendencies. Motta's allegorical montage summons the pasts that have a claim on this particular present, a reminder that the price of redemption will be messianic destruction. The angel arrives to avenge as much as to redeem.
—Jack McGrath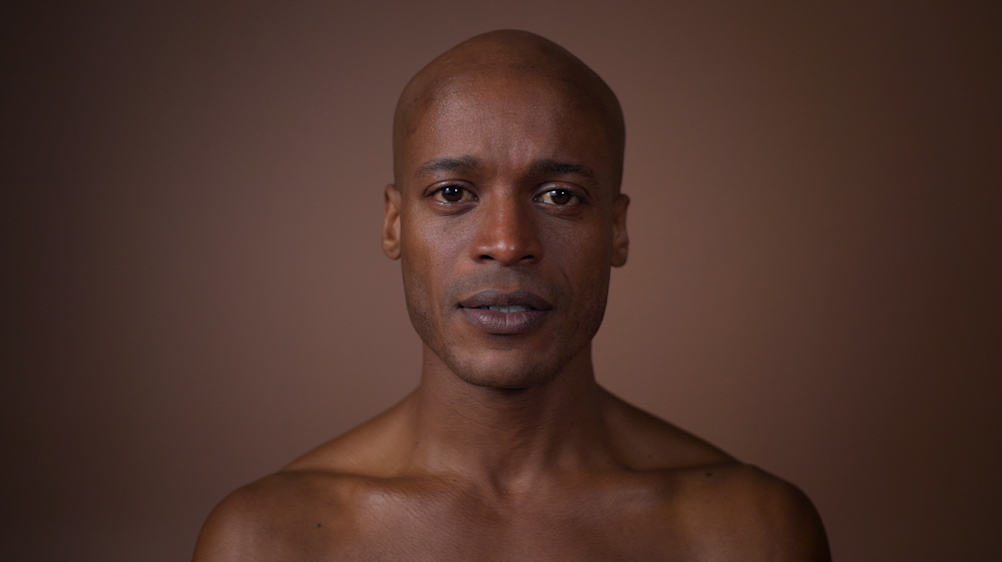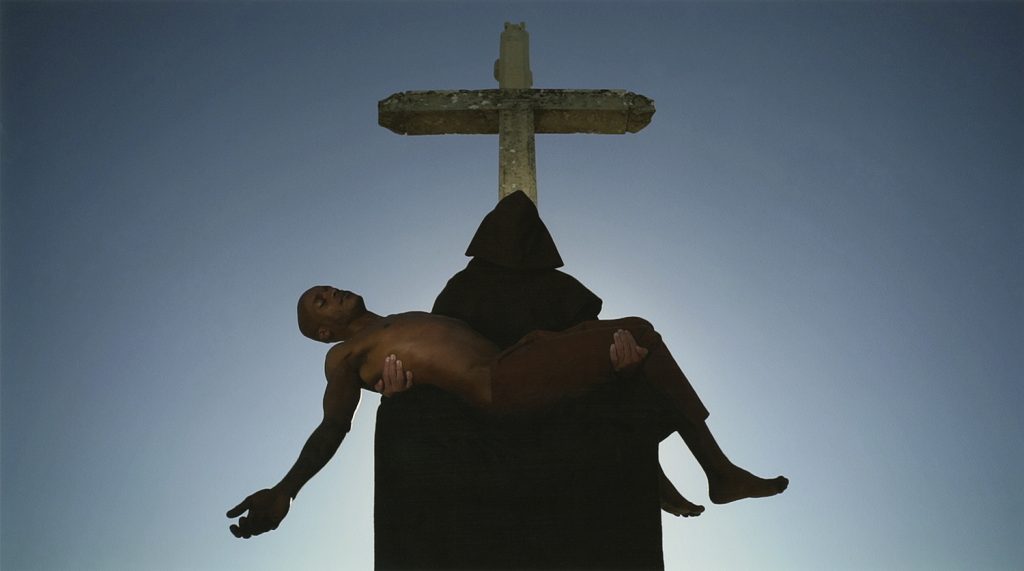 CREDITS
Commissioned by EGEAC/Galerias Municipais, Lisbon for the exhibition "Carlos Motta: Corpo Fechado" at Galeria Avenida da Índia, October 2018 — February 2019. Curated by Pedro Faro and Sara Antónia Matos.

A film by
Carlos Motta
Written by
Carlos Motta
With texts by
Walter Benjamin from "Theses on the Philosophy of History" (1940)
Saint Peter Damian from "Letter 31: The Book of Gomorrah" (circa AD 1049)
With
Dario Azzellini as Saint Peter Damian's voice
Paulo Pascoal as José Francisco Pereira
John Arthur Peetz as The Monk
Vicente Wallenstein The Conquistador
Director of Photography
Mario Melo Costa
Additional Camera
Carlos Motta
Video Editing
Carlos Motta
Video Editing Consultant
Irit Batsry
Music and Sound Design
Ian Turner
Co-Produced
EGEAC/Galerias Municipais (Lisbon)
Galeria Vermelho (São Paulo)
Mor Charpentier Galerie (Paris)
P.P.O.W Gallery (New York)
Production
Anze Persin, Stenar Projects, Lisbon
João G. Rapazote, EGEAC/Galerias Municipais, Lisbon
Post-Production and Color Correction
Aleksander Bergan
Camera Assistant
Danilo Bernades de Souza
Gaffer
Zé Manuel
Sound Recording
Bernardo Theriaga
Ian Turner
Production Assistants
Camilo Godoy
Ines Lima, Stenar Projects, Lisbon
Transcriptions and Translations
Luísa Yokochi and Ana Yokochi, KennisTranslations, Lisbon
Rafael Martins
Research Assistants
João Gaspar, EGEAC/Galerias Municipais
Julio Rodriguez
Artworks in order of appearance
Nautical Chart "North and South Atlantic," Museu de Marinha, Lisbon
"Exú," religious fetish sculpture purchased at a store in São Paulo, 2018
"Ship Santa Cruz," Anonymous, 17th Century, Museu de Marinha, Lisbon
Planisfério "Mapa-mundo," Alberto Cutileiro, 1970, Museu de Marinha, Lisbon
Chessboard, Alberto Cutileiro, 1989, Colecções Philae, Museu de Marinha, Lisbon
"Process 11.774 of José Francisco Pedroso," Lisbon Inquisition, Arquivo Nacional da Torre do Tombo, Lisbon
Locations in order of appearance
Santuário de Nossa Senhora do Cabo Espichel, Sesimbra
Museu de Marinha, Lisbon
Arquivo Nacional da Torre do Tombo, Lisbon
Museu Nacional de Arqueologia, Lisbon
Cabo Espichel, Sesimbra
Equipment Rental
Videocine, Lisbon
Studio
Digital Azul, Lisbon
Institutional Acknowledgements
Arquivo Nacional Torre do Tombo/Direção-Geral do Livro, dos Arquivos e das Bibliotecas:
Dr. Silvestre Lacerda, Dr. José Maria Furtado, and Dr.ª Anabela Ribeiro
Centro Paroquial de Bem-Estar Social do Castelo de Sesimbra: Padre Eduardo and André Brazinha
Museu de Marinha
Museu Nacional de Arqueologia/Direção-Geral do Património Cultural: Dr. António Carvalho
Performance Studies, New York University: Malik Gaines
Very Special Thanks
Alex Mor
Ana Maria Tavares
Anze Persin
Bernardo Mosqueira
Eduardo Brandão
Filomena Soares
Jack McGrath
João G. Rapazote
John Arthur Peetz
Juan Eyheremendy
Mafalda Franco
Manuel Santos
Pedro Faro
Penny Pilkington
Philippe Charpentier
Sara Antónia Matos
Trey Hollis
Wendy Olsoff
Special Thanks
Alp Klanten
Cristina Motta
Irit Batsry
João Gaspar
Linn Tonstad
Malik Gaines
Welket Bungué
Thanks
CAB A.D. Sousa Monteiro
CAB M. Pereira da Fontoura
Isaac Julien Studio
Mark Nash
SAJ A. Costa Alves
Zeb Tortorici