A 48-page newsprint publication made collaboratively with Julieta Aranda and commissioned by Defne Ayas, Lead Curator,  Performa 11 in New York.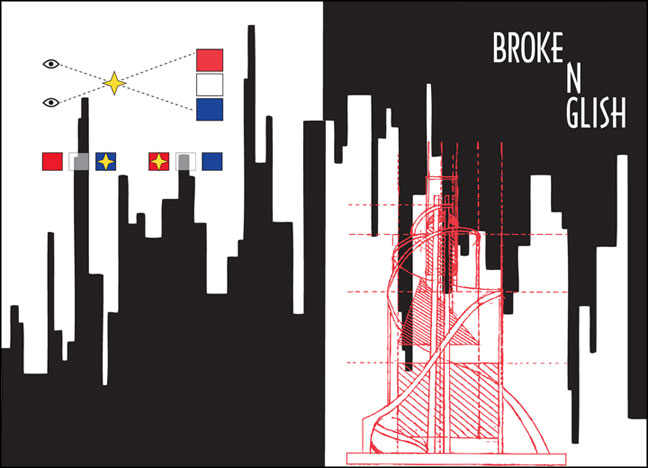 Download PDF here
A city is in a permanent process of self-translation. City life demands that bridges be created for the coexistence of different communities within prescribed urban parameters, aspiring to an idea of "neutrality" that is tacitly agreed upon. This imperfect space of social interaction and communication is a fertile ground. It opens up a field of productive tension where all sorts of personal and collective encounters/misses/near-misses take place. 
The expression "broken english" reflects on the elasticity for negotiating public space in a culturally diverse urban setting–the moment of suspension of individual and group ideologies, cultural behaviors, moral attitudes, lifestyles, and beliefs when faced with other people on the streets. Just like urban exchanges, "broken english" maybe be fragmented, incomplete, and/or marked by faulty syntax and inappropriate diction. English is a language, but "broken english" is a broken tool, in the best possible sense. It is not made-to-measure, instead it has to be constantly repurposed and made-to-function.
Broken English is a 48-page newsprint publication that brings together a selection of historical critical writing, newly commissioned essays and other contributions by a group of more than 20 artists and writers that illustrate the complexity of this malleable urban field of possibilities, of encounters and negotiations at a pivotal moment, when there is a generalized climate of protest, and political actions in public space have taken center stage in cities throughout the world.
With contributions by
Julieta Aranda, Joey Arias/Carlos Motta, Defne Ayas, Michael Baers, Sarnath Banerjee, Andy Bichlbaum, Julio Camba, Asli Çavuşoğlu, Carolina Caycedo, Samuel R. Delany, Jimmie Durham, Liam Gillick, Ashley Hunt, Adam Kleinman, Runo Lagomarsino, Yates McKee, Naeem Mohaiemen/Visible Collective, Shirin Neshat/RoseLee Goldberg, OWS Architecture Committee, Raqs Media Collective, Martha Rosler, Kim Turcot DiFruscia/Elizabeth Povinelli, Anton Vidokle/Andrei Monastyrski, Jeff Weintraub, and Carla Zaccagnini.