Arts & LEISURE is a tabloid newspaper on the subject of criticality and complaint; edited by Julieta Aranda and Carlos Motta (with *The Generals). Co-published by Art in General and e-flux.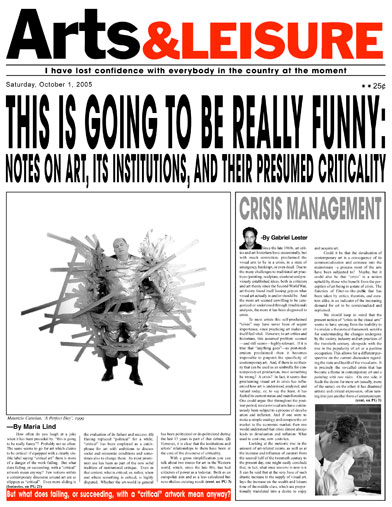 Arts & LEISURE was conceived as an artist project, which addressed ideas of criticality and complaint in contemporary art. The paper comprises a number of texts by artists and writers such as Maria Lind, Gabriel Lester and Andrea Fraser, using a journalistic style to inquire about a crisis of art criticism and complacency with commercial structures of art discussion.
•
With Texts and Contributions by
Fia Backström • Michael Baers • Sybil Baker • Roman Berka / Elia Gurna / Ben Lam (museum in progress) • CAMEL • Andrea Fraser • Mariam Ghani • The Generals • Andrea Geyer • Liam Gillick • Terence Gower • Francesca Grassi • Nicolás Guagnini • Ashley Hunt • Jesal Kapadia • Stewart Ludlow • Gabriel Lester • Maria Lind • Raimundas Malasauskas • Yates McKee • Gean Moreno • Natasa Petresin • Christian Rattemeyer • Miguel "Curri" Sarate • Brian Sholis • Elena Sorokina • Valerie Tevere • Leon Trotsky • Anton Vidokle • Alex Villar
ISBN: 0-9766693-0-7 ; Print run: 2,000 copies; to request a copy email: info@arts-and-leisure.com. More info here
•
The Generals
Convened in January 2005, The Generals were a new committee at Art in General formed for the purpose of discussing, proposing and organizing new paradigms in programming. Several of the members have exhibited at Art in General in the past, which allows further support of the work that the artists have previously presented, a continuation of the discussion and debate that the work ignited, and a method to sustain the public interest and community involvement that they generated. The membership of the Generals committee rotates annually, and their specific role at Art in General may change depending on the interests of the members or the needs of the organization. For 2005, The Generals are artists Julieta Aranda, K8 Hardy, Gareth James, and Carlos Motta.