Talk and Q&A | Petite Mort with Billy Miller at Leslie Lohman Gay and Lesbian Art Museum
February 26, 2012
Tuesday, February 28; 6-8 pm
26 Wooster Street, NYC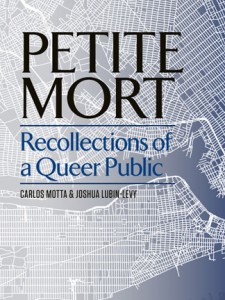 Does Public Sex Matter?
Discussion and Q&A with Billy Miller, contributing artist and Carlos Motta, co-editor
The book Petite Mort: Recollections of a Queer Public assembles drawings from memory of spaces in New York City where a public sexual encounter occurred. A project created in collaboration between Carlos Motta and Joshua Lubin-Levy, it features drawing contributions from an inter-generational group of over 60 gay men and texts by 15 authors. Petite Mort reminds us that public sex is not exclusively about a personal pursuit of pleasure-they also contain the seeds of historical, social, and political action.
Billy Miller is a New York-based artist, curator, writer, filmmaker, and independent publisher. His artwork has been presented internationally. Petite Mort was curated by Ingrid Chu and Savannah Gorton, and commissioned and published by the non-profit Forever & Today, Inc.
The book will be available for purchase at the event or at Printed Matter, Inc.