Symposium | Visual Activism, San Francisco MoMA, March 14-15
February 26, 2014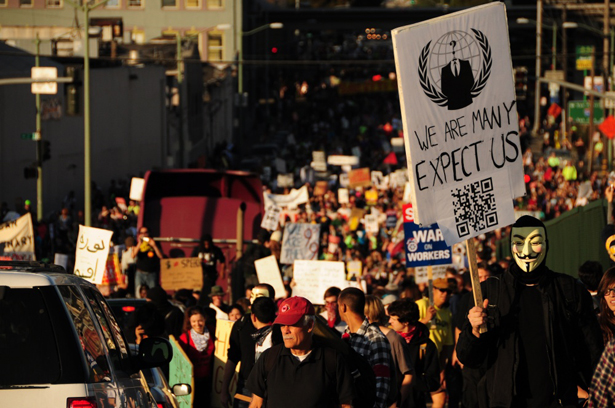 Occupy Oakland, November 2, 2011. Photo: Salvador Ingram.
Visual Activism Symposium 
Friday, March 14, 2014, 9am–7pm
Saturday, March 15, 2014, 9am–6pm
Brava Theater Center
2781 24th Street
San Francisco, CA 94110
Visual culture can take the form of political and social activism, and activism often takes on specific, and sometimes surprising, visual forms. How can we better understand forms of communication that take place under threat of war, revolution, or repression? What strategies can be deployed to transform our engagement with the built environment and broader ecologies? How do embedded social hegemonies, such as racism, figure in the larger efforts to engage with activism visually? How is our broader visual culture shaped by activist practices that circulate in public space?
Scholars, artists, and activists address these and related questions in a series of presentations, performances, and interactive projects in San Francisco, California, over the course of two days. Friday's schedule includes panel conversations on queer tactics, environmentalism, and social-networking activism, a keynote address by artist Carlos Motta, and opportunities for audience members to participate in artist- and activist-led projects, workshops, and critical conversations on the intersections between visual culture and activism.
Saturday's schedule includes keynote presentations by filmmaker and critic Trinh T. Minh-ha and photographer Zanele Muholi, the Annual General Meeting of the International Association for Visual Culture, and panel discussions on issues of displacement, both locally and internationally, and on the political role of visual culture in areas of conflict, war, and revolution.
Participants include:
–Teddy Cruz, professor of public culture and urbanism, Visual Arts Department, UC San Diego (UCSD); director, UCSD Center for Urban Ecologies; co-director, UCSD-Blum Cross-Border Initiative; and co-director, Civic Innovation Lab, City of San Diego
–Gayatri Gopinath, associate professor of social and cultural analysis and director of Asian/Pacific/American studies, New York University
–Gran Fury Collective members Avram Finkelstein and Robert Vazquez-Pacheco
–The Militant Research Collective (Natalie Bookchin, artist and Photography and Media Program faculty, CalArts; Alexandra Juhasz, professor of media studies, Pitzer College; Nicholas Mirzoeff, professor of media, culture, and communication, New York University; Joan Saab, director, Visual and Cultural Studies Program, and associate professor of art history/visual and cultural studies, University of Rochester
–Trinh T. Minh-ha, filmmaker, writer, composer, and professor of gender and women's studies and rhetoric, UC Berkeley
–Carlos Motta, artist
–Zanele Muholi, artist and activist
–Lisa Parks, professor of film and media studies, UC Santa Barbara
–Favianna Rodriguez, artist and agitator
–Urban Subjects Collective (Sabine Bitter, artist; Jeff Derksen, poet and critic, Simon Fraser University; Helmut Weber, artist)
more info here