Group Exhibition | Absolute Democracy, < rotor > association for contemporary art, Graz, Austria
September 7, 2012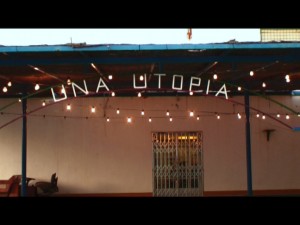 ABSOLUTE DEMOCRACY
September 30 — December 21, 2012
Participating Artists: Julieta Aranda & Anton Vidokle; Petra Bauer; Lenin Brea & Nuria Vila; Miklós Erhardt & Claudio Feliziani; Isabelle Fremeaux, John Jordan & Kypros Kyprianou; Mariam Ghani; Carles Guerra; Vladan Jeremić & Rena Rädle; Nicoline van Harskamp; Jim Hubbard; Fernando Solanas; Nikolay Oleynikov; and Ultra-red. 
Curated by: Carlos Motta & Oliver Ressler
The concept Absolute Democracy was originally used by the philosopher Baruch Spinoza, and meanwhile updated by the influential capitalism critics Antonio Negri and Michael Hardt, stands for a vision: for the vision of a republic founded on a broad collaboration of its citizens and on the development of common goods. It is an idea that propagates the redistribution of wealth and power and the possibility of new, more equitable systems of rule. It denounces the effects of capitalism and thus challenges a normative understanding of class, race, gender and sexuality. Against this background, "Absolute Democracy" takes a critical look at the concept of democracy, spotlighting the problem of its social, political and economic consequences and offering alternative interpretations of historiography.
http://rotor.mur.at/frameset_aktuell-eng.html 
Opening Reception: Saturday, September 29, 2012, 12 noon
Opening speech by Gerald Raunig  
< rotor >
Volksgartenstraße 6a
8020 Graz, Austria
This exhibition is part of steirischer herbst