Exhibition | Carlos Motta: Deus Pobre: Modern Sermons of Communal Lament, Y Gallery, NY
November 24, 2011
November 22-December 23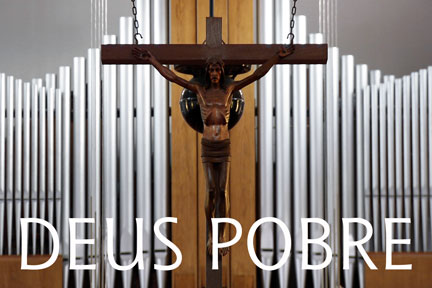 Y Gallery
165 Orchard Street
Tue-Sun: 12-6pm 
DEUS POBRE: Modern Sermons of Communal Lament is a video installation based on a series of performative interventions in Catholic churches in Porto, Portugal. Six ordained priests —all of whom share an interest in the theology movement known as Liberation theology— read excerpts of key sermons and texts delivered by theologians and priests since the 17th Century.
Liberation theology emerged in the 1970s in Latin America —with developments in other parts of the world— where oppression, marginalization and vulnerability have determined the social landscape since the times of the Conquest. The movement focuses on the "dialogue between the Christian tradition, social theory, and the insight of the poor into their own situation, leading to action for change."(1)  Liberation theology underlines the political potential of the church's mission and denounces instances when the church has been complicit with regimes of imperial and oppressive power.
Set in Portugal, DEUS POBRE, which translates as Impoverished God, revisits this particular history by asking contemporary priests to deliver, during their daily mass or for a public audience, theological-political sermons originally written byBartolomé de las Casas (1542), António Vieira (1653-57), Gustavo Gutiérrez(1971), Óscar Romero (1977-80),and Leonardo Boff (1996). Thus the priests engage with Portugal's colonial history and the past role of the church in missionary evangelization, as well as with its current institutional role in a globalized and socially unequal world where the majority of its population lives in abject poverty.
More info here